Regional Workshops had been held for the Public Call for the "Climate Smart Bio – Waste Management Challenge"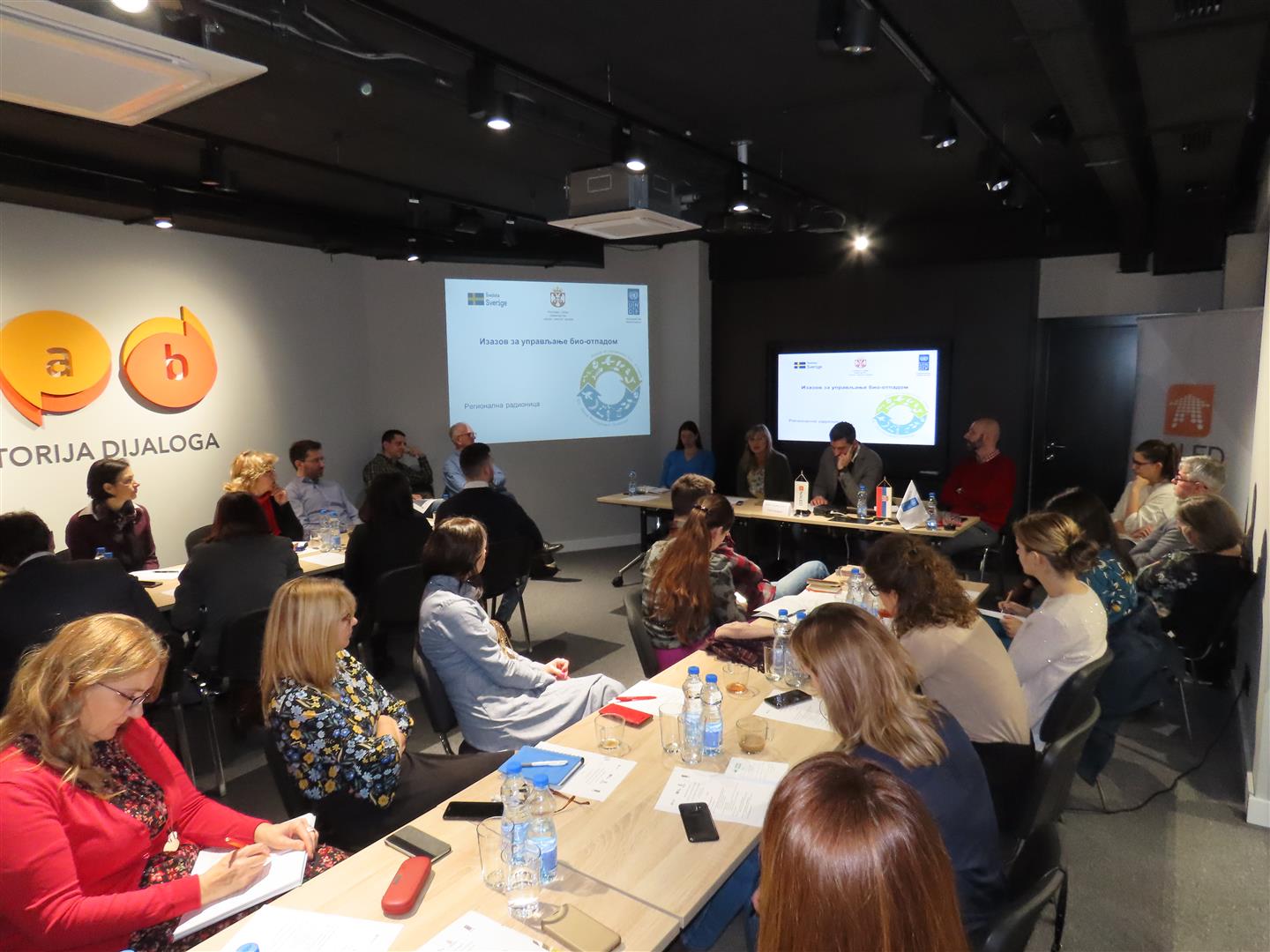 Public Call for the "Climate Smart Bio – Waste Challenge" had been presented at regional workshops in Niš, Novi Sad, Čačak and Belgrade. Representatives of private companies, public utilities, local governments, research and scientific institutions and non-governmental sector had an opportunity to get detail information related to Public Call, which will be open on March 10 th .
– Our idea is to involve the private sector as much as possible in solving the problem of biodegradable waste, so this type of waste does not end up in landfills and decompose into methane, a very potent greenhouse gas – said Miroslav Tadic, Portfolio Manager for Climate Change in UNDP Serbia. He added that the main goal of the project is to involve the private sector in tackling climate change through innovative, technical and technological solutions and business models.
One of the results of the project, according to Tadić, should be the introduction of the circular economy principles into bio-waste management in Serbia.
Radmila Šerović, Head of the Department for Waste Management at Ministry of the Environmental Protection announced that the new Waste Management Strategy will be available in the Serbian language by the end of February and that it will revise the goals of waste management related to bio- waste.
– In new Strategy this type of waste takes a significant place, although we do not have much information on the quantities and types of bio-waste generated in Serbia. Following EU directives, we have envisaged strategic measures to improve the management of this type of waste. Also, we will identify all producers of biodegradable waste – explained Šerović.
She said that the "Climate Smart Bio – Waste Challenge" project will facilitate the establishment of bio-waste management infrastructure, primarily its collection, separation from other types of waste and treatment, "so that even a kilo of bio-waste does not end up in landfills." As she explained, there are a small number of operators involved in bio-waste treatment in Serbia, which can be explained by the fact that this activity is not profitable.
– We have made the least progress in bio-waste management due to lack of infrastructure for waste collection and treatment. More than 60 companies have permits for collection, transportation and treatment of bio-waste, but they are not all working. The investments are highe, the industry is not profitable and that is the reason why we have not made any progress. Serbia should have at least one biogas plant in every of 26 regions. Without such plants and composting facilities, we will not be able to meet our goals. We need big investments and infrastructure based on the development of the regions – said Šerović, adding that it is a practice everywhere in the world that waste producer pays for its disposal, based on "the polluter pays" principle.
Project Coordinator Ana Seke explained that the project has two sub-challenges: food waste and kitchen waste and green waste from parks and gardens. She also outlined the project phases and requirements that participants have to meet.
– Cities and municipalities, public utility and private companies, research and scientific institutions and civil society organizations can apply for the public call. Through project acceleration phase, participants will receive mentoring and expert support from local and Swedish experts through workshops and trainings as well as study visits, participation in conferences, public events and fairs. The five most mature projects will receive co-financing for implementation – said Seke.
A total of 900,000 tonnes of biodegradable waste is produced annually in Serbia, according to data provided by the Regulatory Assistant at National Alliance for Local Economic Development (NALED) Đurđija Petrović.The Law on Waste Management does not define obligations for waste separation, which is the reason why more than 500,000 tonnes end up at municipal landfills.
– Mixed kitchen waste from households is usually dumped into a landfill, or used in agriculture and as food for animals. Business entities have to handle over this waste to operators, pay for that services and therefore some avoid this obligation. From 2011 to 2018 only 30 companies reported to Environmental Protection Agency on the quantities of bio-waste handled over to operators although it is their responsibility – said Petrovic.
Representatives of Environmental Protection Alliance of NALED proposed, as a potential measure to improve the regulations, the adoption of a Rulebook on kitchen waste management for facilities that produce large quantities of meals per day to separate this type of waste and handle it over to the operator.
The project along with its Innovation Challenge Call is implemented by the United Nations Development Programme (UNDP), with the financial support of the Swedish International Development Agency (Sida) and in close cooperation with the Ministry of Environmental Protection (MoEP).