THE MOST IMPORTANT SPANISH MEDIA REPORT ON SERBIAN INNOVATIVE CLIMATE SMART URBAN DEVELOPMENT IDEA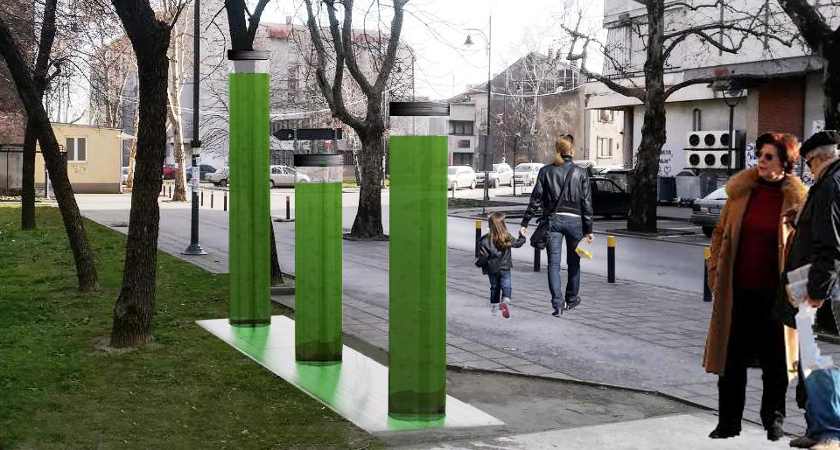 The first photobioreactor, the aquarium of modern design with microalgae, will be installed in the next few months in the city of Smederevo, report the most influential Spanish media. The use of microalgae to capture carbon dioxide and release the oxygen is already evolving in Europe, said Dr Ivan Spasojevic from the Institute for Multidisciplinary Research in Belgrade. "However, this concept of a reduced photobioreactor and its installation in an urban environment does not exist, we have invent it," says Spasojević, a doctor of biophysics, who leads a group of nine researchers, scientists from the Institute.
The device, called LIQUID3, with a base of only three square meters, replaces the lawn of 400 square meters or two trees that were grown for the production of oxygen. "For maturity of trees it takes 20 years, and our device is set in three or four hours," says Spasojević. The task of the urban photobioreactor is to counter the great release of carbon dioxide in urban centers, which often do not have enough plants and greenery.
For this reason, this invention is ideal for high pollution areas, traffic routes, proximity to thermal power plants, industrial plants or densely populated areas. The price of the prototype is approximately 3,000 or 4,000 euros, however it has not yet been produced in the series. The system functions as a water reservoir with microalgae that absorbs carbon dioxide through photosynthesis and releases oxygen. "This is not a substitute for parks, but compensation for places where they are not possible. This is the answer for areas where trees can not be planted," says Spasojević.
Dr Dusica Stojiljkovic, member of the research team, says the device is self-sustainable and it creates a biomass that can be used or sold as a quality fertilizer.
In late April 2018, this innovative idea was awarded by the project "Climate Smart Urban Development Challenge" jointly implemented by the Ministry of Environmental Protection and the United Nations Development Program (UNDP) with the financial support of the Global Environment Facility (GEF).